FSP Research Scientist - Biomolecule Engineering - [Archived Advertisement]
First listed on: 03 May 2017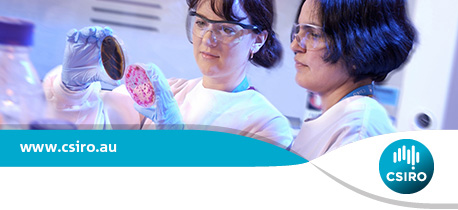 FSP Research Scientist - Biomolecule Engineering
An outstanding opportunity to work on future science

Conduct innovative research by applying your expertise in macromolecular modelling and enzyme design.

Join CSIRO's innovative teams in the Synthetic Biology Future Science Platform
The Position
We are seeking a talented early-mid career scientist with a proven track record in macromolecular modelling and enzyme design to participate in a collaborative project in which we will develop a new engineering approach for de novo design of catalytic activities in enzymes, enabled by recent advances in Synthetic Biology. We see this as the first step towards an automated enzyme design platform. The successful candidate will have deep domain knowledge and a history of success in enzyme design. The project is based at CSIRO in either Canberra or Melbourne (to be negotiated), and is part of a larger collaboration between CSIRO and the Australian National University (Canberra). The successful application will have highly developed interpersonal skills and the capacity to collaborate with colleagues of diverse scientific backgrounds.
Specifically you will:
Design of new enzymes with novel functionality

Collaborating with the broader research group to test enzyme designs

Communication of results through the production of reports and scientific papers and contributions to appropriate scientific conferences.

Interact productively with a diverse multidisciplinary, multi-institutional team (CSIRO and the Australian National University)
Location: Canberra, ACT or Melbourne, VIC
Salary: $92K - 100K plus up to 15.4% superannuation
Tenure: Specified term until June 2020
Reference: 38724
To be successful you will need:
PhD and post-doctoral research experience in Enzyme Design/Engineer or Biological Engineering

Demonstrated capability in advanced modelling techniques for biological macromolecules

Demonstrated coding proficiency; familiarity with operating systems such as Linux

Proven proficiency in scientific communication through publication or equivalent delivery of outcomes in an industrial context.

Ability to foster productive and inclusive interactions with colleagues from diverse scientific backgrounds and at a variety of levels of seniority (e.g. students, group leaders, professors etc).

A deep domain knowledge in reaction chemistry and/or experience in molecular biology and protein characterisation is desirable.
Who we are: The Commonwealth Scientific and Industrial Research Organisation (CSIRO)
At CSIRO, we do the extraordinary every day. We innovate for tomorrow and help improve today – for our customers, all Australians and the world. We imagine. We collaborate. We innovate.
Future Science Platforms: Future Science Platforms (FSPs) are critical to turn Australia's future challenges into opportunities to invent a better future for us all. FSPs are an investment in science that underpins innovation and that has the potential to help reinvent and create new industries for Australia. FSPs will see CSIRO grow the capability of new generation of researchers and allow Australia to attract the best students and experts to work with us on future science. They are strategic investments aimed at developing capacity in areas of identified future importance for Australia. FSPs are both impact and science focused, developing innovative scientific solutions with industry, government and university partners. They support world class, coherent and creative research teams which integrate science and delivery over the long term.
Synthetic Biology FSP: Synthetic Biology (SynBio) is the design and construction of biological parts, devices, and organisms, usually based on DNA-encoded componentry; and their application for useful purposes. It is becoming widely recognised that SynBio is the next transformative technology. SynBio is an emerging interdisciplinary field representing the convergence of diverse domains, such as biotechnology, evolutionary biology, molecular biology, systems biology, physics, chemistry, computer engineering and informatics, electrical engineering, and genetic engineering, among others. SynBio involves modeling, writing, and printing DNA code for the design and fabrication of new biological parts, devices, systems, and machines, as well as the re-design of existing, natural biological systems. SynBio has potential applications in areas as diverse as manufacturing, human health, agriculture and protecting ecosystems.
How to Apply: Please upload one document only that contains a cover letter addressing the selection criteria outlined in the Position Details Document, together with your Resume/CV.
Before you apply please view the full position description and selection criteria here: Position Details Document
Applications Close: 11:59pm AEST, 28 May 2017
CSIRO supports flexible working arrangements.

Closing Date:

28 May 2017
Location:

VIC
ACT
Salary:

$92K - 100K plus up to 15.4% superannuation
Work Type:

Contract/Temp
Category:

Biomedical/Biotechnology
Research/Scientific
Stakeholder Engagement/Management