First listed on: 10 February 2023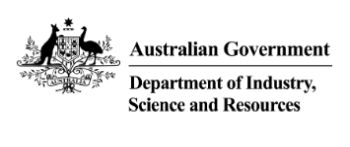 Experimental Scientist, Optical Standards
APS Level 6, National Measurement Institute
About the National Measurement Institute
We are the Australian Government's national authority on measurement. We play an important role in the Australian economy by leading, maintaining and regulating Australia's measurement system. We deliver world-class measurement products, advice and client services and administer the regulatory framework for measurement. Our national measurement standards are recognised internationally and we work to enhance and maintain these standards.
We value the different skills, knowledge and perspectives our employees bring. We're committed to giving everyone an equal opportunity to participate, contribute and progress. Our values and behaviours centre on being adaptable, innovative, accountable, strategic, inclusive and influential.
About the branch
The Physical Metrology Branch leads the development, maintenance and dissemination of Australia's peak physical measurement standards. The branch is an active participant in international measurement forums. Through the delivery of a range of calibrations and other measurement services, branch staff share their expertise with Australian and international stakeholders. This supports research, process improvements, product optimisation and better measurement practice across the economic landscape.
About the Optical Standards Team
The 6 members of the NMI's Optical Standards team develop and maintain Australia's most accurate standards for laser power, photometry and radiometry from the ultraviolet to the infrared with world-leading measurement uncertainties. Based on these unique capabilities, the team delivers measurement and consultancy services from our internationally recognised state-of-the-art laboratories. Our activities are accredited by the National Association of Testing Authorities, as well as through regular review by international peers.
We have a wide range of R&D underway to rapidly evolve our capabilities to support emerging needs, such as hyperspectral imaging, high power laser systems and quantum photonics.
What's in it for you?
NMI values continuous learning and is committed to supporting staff to reach their full potential. You will have the opportunity to:
Develop your technical skills and gain a comprehensive knowledge of photometric, radiometric and laser measurement and of the operation and design, and of the limitations, of relevant modern commercial and research equipment,
Become Australia's leading technical expert in the field. Represent Australia on national and international technical and standards committees.
Develop your career through formal leadership, supervision and management training.
Collaborate with other expert NMI teams and external stakeholders, including to build Australia's measurement skills and to integrate the latest technical innovations in quantum, photonic, optical and electrical standards into the next generation of NMI's measurement capabilities.
Gain experience with ISO 17025 laboratory accreditation, become an authorised signatory and a NATA technical assessor.
Gain experience with IEC 60825 and become an authorised laser-safety officer.
Our ideal candidate
We are seeking an enthusiastic early-career Laser Physicist. You will have:
A PhD in experimental laser physics.
Demonstrated software and automation skills.
Demonstrated electronic and mechanical skills and familiarity with the operating principles and limitations of a range of relevant measurement instrumentation.
A flair for using the full range of mathematics, physics and engineering skills to effectively identify and solve complex problems and to critically analyse and model complex systems.
Experience working collaboratively within a team environment.
Demonstrated ability to work independently and to take responsibility for delivering results.
Experience influencing outcomes in complex situations through stakeholder awareness, evidence-based arguments and fit-for-purpose communication.
What you will do
Working alongside Australia's national experts you will develop and refine your skills. As an Experimental Scientist in the team, you will:
Take responsibility for maintaining and developing Australia's primary standards for measurements from the UV to IR. These standards include Australia's primary standard cryogenic radiometer, aperture area facility, and tuneable-laser-based radiance sources.
Calibrate optical sources and detectors for industry and research stakeholders, with some requiring the highest levels of accuracy achievable internationally.
Build relationships across NMI and with research and industry communities to identify and influence emerging trends in optical metrology and contribute to improving the use of optical metrology techniques.
Use your broad physics and engineering skills to innovatively contribute to the design and development of new measurement systems such as a tuneable radiance source to calibrate hyperspectral imagers and a new quantum-based temperature standard.
Contribute to the team's ongoing research into developing and validating new experimental techniques, e.g. for high-power laser measurement using radiation force methods, the development of new reference standards for correlated photons, and the development of innovative stabilised tuneable radiance sources based on lasers and nonlinear optical interactions.
Eligibility
To be eligible for employment in the APS and the department, candidates must be Australian Citizens.
Positions require a Baseline security clearance and successful candidates will be required to obtain and maintain a clearance at this level.
Notes
A merit pool may be established and used to fill future vacancies within 18 months from the date the vacancy was first advertised in the Gazette.
How to apply
Your application must not contain any classified or sensitive information. This includes in your application responses, CV and any other documents. The selection panel may not consider applications containing classified information.
Please provide a pitch explaining how your skills, knowledge and experience will be relevant to this role and why you are the best candidate for the position. Your pitch can contain no more than 5000 characters (approximately 750 words) and should align to the key duties listed above. Please complete your application online and provide your current CV with your application. (CVs must be in .doc, .docx, or .pdf format).
Accessible application documentation is available in other formats on request. Please contact recruitment@industry.gov.au or (02) 6276 1235 if you require assistance with your application.
Please refer to our Applying for a position information for additional information on how to apply.
Contact Information
For more information on this vacancy, please contact Errol Atkinson on +61 2 8467 3563 or Errol.Atkinson@measurement.gov.au.
Applications close: 22 Mar 2023 11:55 PM AUS Eastern Daylight Time
Closing Date:

22 Mar 2023
Location:

NSW - Sydney
Work Type:

Full Time
Category:

Instrument/Control Systems
Measurement/Standards
Mechatronics
Research/Scientific
APS Classification:

APS Level 6