PM seeks supply boost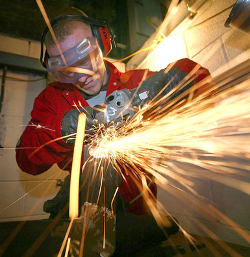 The Federal Government is investing in the Australian manufacturing industry to aid in the economic recovery from COVID-19.
Prime Minister Scott Morrison has announced a new strategy to focus on industries Australia is doing well in, as well as some "emerging priorities".
Over a billion dollars will be provided to manufacturers to help upscale their businesses.
"Long gone are the days of trying to compete with labour-intensive, low-cost manufacturing economies," Mr Morrison said.
"Gone too are any pretentions of protectionism as a viable strategy for domestic manufacturing, that's not where our future is.
"Manufacturing in Australia today has been transformed and will continue to transform."
The Prime Minister wants Australia to aim for global success, taking advantage of the country's comparatively strong position amid the pandemic, within reason.
"The reality is we cannot, and should not, seek to reach global scale in a large number of sectors," Mr Morrison said.
"We can't be all things to all people.
"This is an important lesson from other small and I'd say medium-size, high-income economics like ours which have leveraged home-ground manufacturing into global success.
"The lesson [is], don't try to do everything.
"We can't ignore the obvious, the benefits of hyperglobalisation and highly fragmented supply chains can evaporate very quickly in the event of a major global shock like the COVID-19 pandemic, as we've seen.
"Armed with this experience, it is sensible Australia consider, as so many other countries are, more options to guard against supply chain vulnerability for critical necessities, and to secure us against future shocks."
More details are available here.