Dam crew wins flood appeal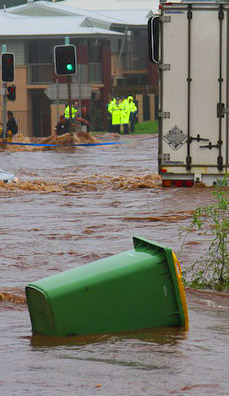 The Queensland Government's water utility has won an appeal against a 2011 flood damages ruling.
In 2019, the Supreme Court in New South Wales found the Queensland government, water utility Sunwater and dam operator Seqwater acted negligently and had contributed to the disastrous 2011 Queensland floods.
The floods forced the evacuation of thousands of people from towns and cities, with at least 90 towns and over 200,000 people affected.
The court found that engineers failed to follow their own flood mitigation manual when they released large volumes of water at the height of the flood.
Over 6,500 victims whose homes or businesses were damaged were found to be entitled to around $900 million in compensation.
Seqwater was found liable for 50 per cent of that figure, but appealed against the decision on a number of grounds.
Seqwater argued that its engineers acted appropriately and made suitable decisions about water releases.
Three NSW Court of Appeal judges have this week ruled that the engineers "acted by way of consensus" and "ultimately" followed the strategy put forth by the senior flood operations engineer. They were found not to have breached the Civil Liability Act.
"Failure by Seqwater's flood engineers to depart from that strategy was not proven to be in breach," the judges found.
"Even if their conduct departed from the manual, that did not of itself entail a breach of that standard."
Class action law firm Maurice Blackburnhas described the judgement as "disappointing", and says it will carefully review it before deciding whether to launch a High Court appeal.
The settlement reached with the Queensland Government and Sunwater remains in place.