CSIRO Centre for Earth Observation - Satellite Operations and Data Manager - [Archived Advertisement]
First listed on: 23 February 2018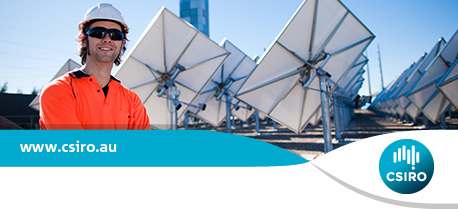 CSIRO Centre for Earth Observation - Satellite Operations and Data Manager
Face daily challenges in this dynamic role
Manage data requests & distribution for NovaSAR data
Join CSIRO - Australia's premier science and technology research organisation
The Position
CSIRO's Astronomy & Space Science is seeking to appoint a CSIRO Centre for Earth Observation - Satellite Operations and Data Manager.
In this position you will manage CSIRO's new requirements for satellite tasking, downlink and data distribution, initially for the NovaSAR satellite. You will coordinate operations and data services for future CubeSats or EO satellite partnerships that CSIRO is planning to join, including with the domestic and international aerospace industry sector.
Your duties/responsibilities will include:
Support management of cross-CSIRO's Earth Observation data system(s)

Coordinat EO data access and processing with relevant Australian and international/commercial EO data providers.

Manage EO data requests and distribution to users, specifically for NovaSAR satellite data

Coordinate tasking instructions to NovaSAR via the SSTL-provided terminal

Coordinate data reception and download requests with the appointed ground station provider (tbd)

Work closely with the satellite operator(s) such as NovaSAR's Surrey Satellites P/L, and provide initial quality checks for the NovaSAR data distributed via the CSIRO system.

Implement base L0-to-L1 processor systems, in particular for the new NovaSAR satellite.

Lead establishment of an appropriate data management and dissemination system for NovaSAR with CSIRO IM&T.
Location: Canberra ACT or Sydney NSW (other locations may be considered)
Salary: $109K - $128K plus up to 15.4% superannuation
Tenure: Specified term until 30 June 2019
Reference: 55951
To be successful you will need:
Relevant Bachelors/Masters Science or Engineering Degree, or equivalent experience in the earth observation and satellite operations Industry.

Demonstrated experience and understanding in earth observation satellite operations, tasking and data downlink.

Competencies in basic EO-data types and base-procssing, and in particular on large-volume EO data management and processing.
Before you apply please view the full position description and selection criteria here: Position description
Who we are: The Commonwealth Scientific and Industrial Research Organisation (CSIRO)
CSIRO Astronomy and Space Science (CASS) provides facilities for scientists from Australia and around the world to explore our solar system and beyond. CASS operates a number of world-class radio astronomy observatories that are collectively known as the Australia Telescope National Facility (ATNF). These include the Parkes 64m diameter radio telescope, the Australia Telescope Compact Array at Narrabri and the Mopra radio telescope, near Coonabarabran. CSIRO also operates NASA's Canberra Deep Space Communication Complex (CDSCC) located in Tidbinbilla, on the outskirts of Canberra. CSIRO is now constructing the Australian Square Kilometre Array Pathfinder (ASKAP) telescope at the Murchison Radio-astronomy Observatory (MRO) in Western Australia and this will be operated as part of the ATNF. The CASS headquarters are in Marsfield, Sydney.
We imagine. We collaborate. We innovate. At CSIRO, we do the extraordinary every day. We innovate for tomorrow and help improve today – for our customers, all Australians and the world. We do this by using science and technology to solve real issues. Diversity is the compass that navigates our innovation. We provide an inclusive workplace that respects, values and actively pursues the benefits of a diverse workforce.
We work flexibly at CSIRO, offering a range of options for how, when and where you work. Talk to us about how this role could be flexible for you. Find out more Balance
How to Apply: If you wish to apply for this position, please load your CV (Maximum 2MB) via our website at https://jobs.csiro.au/. You may also be required to respond to some screening questions.
Applications Close: 11:59pm AEDT, Friday 30 March 2018

Closing Date:

30 Mar 2018
Location:

NSW
ACT
Salary:

$109K - $128K plus up to 15.4% superannuation
Work Type:

Contract/Temp
Category:

Computer/Technology/ICT
Management
Research/Scientific