Snowy releases cause concern

Print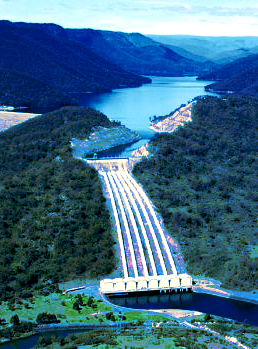 The need for more power from Snowy Hydro has prompted flooding fears for farmers.
Electricity provider Snowy Hydro has been asked to increase production from its Tumut 3 Power Station.
However, it is struggling to deal with a surprising issue for a hydro-electric facility - having too much water.
To generate power from Snowy Hydro's biggest power station, huge volumes of water are run downhill through the Tumut 3 turbine. The water is then either pumped back up the hill to an upper reservoir or emptied into Blowering Dam.
But Snowy Hydro says Blowering Dam is full, following back-to-back years of La Niña rain, so increasing hydro-electric generation now risks flooding.
"Snowy Hydro is being called on more than ever to keep the lights on," post on Snowy Hydro's website states.
"Generation from Tumut 3 Power Station is significantly constrained by the current storage levels in Blowering Reservoir and the release capacity of the Tumut River.
"In order to meet the predicted energy demands in the coming days, it is possible Blowering Reservoir will fill and spill, potentially exceeding the Tumut River channel capacity.
"In this scenario, there is potential for the inundation of low-level causeways and water breaking out of the river channel onto agricultural land adjacent to the river."
There was a minor spill out of the dam last year amid months of rain, while in 2010, dam releases caused extensive flooding. Farmers are concerned this could happen again.
Water NSW reported Blowering Dam as being more than 97 per cent full earlier this week.
But Water NSW - which runs the dam - says that it has released 880 gigalitres of water without downstream property impacts this year.
"Water NSW continues to work with the NSW government and Snowy Hydro to maximise the availability of Blowering Dam to support hydro power generation, whilst balancing the risk for downstream communities," the agency says.