Real funding for facades

Print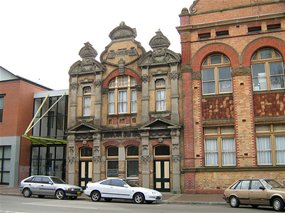 More funding has been awarded as part of the Newcastle Now initiative, money is being given out to businesses and building-owners to spruce up their facades.
The Newcastle Council will give out a second round of funding for the industrial facelifts, after the success of initial grants used for cleaning and painting facades, the removal of redundant signage and minor repairs.
Thirty-seven out of fifty applicants were successful for first round payouts, with awards of up to $120,000 available in round two.
The Newcastle Council's Director of Future City Judy Jaeger says: "Because it was so popular we've decided round one will be finished before the end of the year, so we will actually now start calling for applications under round two... and that's about people doing repairs and painting and doing the facades of their building."
Ms Jaeger says it is not just a hand-out though, with owners having to put up funds as well.
"We are contributing $60,000 to and Newcastle Now are contributing $60,000 as well... it's a three-way partnership because certainly the property owners have to invest as well, and some of them in round one are investing hundreds of thousands of dollars."
Newcastle Now is an extension of the successful Renew Newcastle initiative, which re-enlivened many business and cultural areas in the formerly industrial city.