PM raises Solomon spend

Print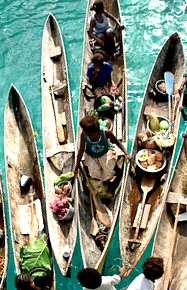 Prime Minister Scott Morrison has pledged $250 million for infrastructure in the Solomon Islands.
The money will fund a new office complex for two key Solomon Islands departments — the Prime Minister's office and the Ministry of Foreign Affairs.
Australia is also providing loans worth almost $3 million to temporary workers from Solomon Islands who want to come to Australia under labour mobility schemes.
Money from the existing aid budget will be redirected from programs that focus on education, health and governance.
Jonathan Pryke from the Lowy Institute says Australia clearly wants to "get involved directly in the infrastructure space in a way that is more responsive to recipient needs as well as strategic imperatives".
"Pacific leaders have made it clear they want more aid spent on infrastructure, and it is indeed a way for Australia to show we're as good a partner as China," he said.
The new Solomon Islands infrastructure fund will be spent over 10 years, and comes in addition to the $2 billion Australian Infrastructure Financing Facility for the Pacific.