PM plugs clean coal dream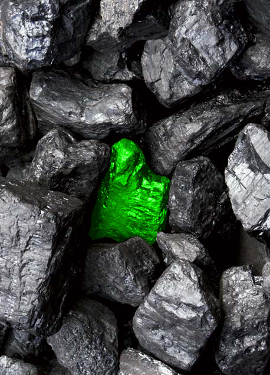 Prime Minister Malcolm Turnbull has plugged 'clean' coal power stations as a key part of the country's future.
But energy experts say new coal-fired power stations would be about the most expensive route.
"Old, high emissions coal-fired power stations are closing-down as they age, reducing baseload capacity," Prime Minister Malcolm Turnbull said in his National Press Club address last week.
"They cannot simply be replaced by gas, because it's too expensive, or by wind or solar because they are intermittent."
Peabody Energy Australia presid­ent Charles Meintjes backed the Prime Minister's position.
Mr Turnbull's view "should be welcomed by all reasonable people concerned about reducing emissions, providing low-cost energy access, encour­aging investments in a wide range of industries, and increasing jobs in Australia", Mr Meintjes told News Corp.
"The rest of the world is ­acknowledging that future electricity supply will need to come from a balanced mix of sources ... If we are to maintain a stable, secure and affordable electricity supply while still meeting emissions-­reduction targets, efficient coal technologies have to play a part in the near term with carbon capture over time," he said.
The Australian Industry Group says coal would not be cheaper or more reliable.
"This is not a recipe for guaranteed lower prices, in fact prices would need to be sustained at very painful levels for the life of the project for that project to make its money back," Ai Group's principle national advisor Tennant Reed told the ABC.
"Several authorities' projections, including from the CSIRO, put the price of new coal at $80 a megawatt hour and new wind and solar around the same level, but we are seeing lower prices achieved day by day [for wind and solar]."
Ai Group's research suggests the price would shoot up to $100 per megawatt hour, because higher uptake of renewables would stop coal plants running at full capacity.
Bloomberg New Energy Finance says the electricity price needed for newly built coal-fired generation is between $135-203 a megawatt hour.
"The price of $80 a megawatt hour for clean coal power assumes a uniform cost of funding between wind, solar and coal and that's simply not the case," Bloomberg's Kobad Bhavnagri said.
"No Australian bank would lend on project that carries so much financial and policy risk, and most banks have ruled out funding new coal projects."
The cost of truly clean energy is falling fast, with AGL's most recent wind project on the NSW and South Australian border generating power at $65 per megawatt hour.
Ai Group says the need for baseload power is dropping too.
"The electricity market is clearly becoming very unfriendly for such inflexible generators: much of the time there is an abundance of power from solar or wind, with rooftop solar taking a lot of demand out of the market entirely," Mr Reed wrote.
Even when the wind stops and the sun disappears, Mr Reed says coal is a bad option.
"Conventional coal plants often can't respond fast enough to serve as back-up, nor can they afford to sit around waiting to be called on," he said.
Ai Group and Bloomberg say gas is the more favourable option environmentally, and that if gas supply increases it would quickly become more economical.