NT seeks ways to get gas east-bound

Print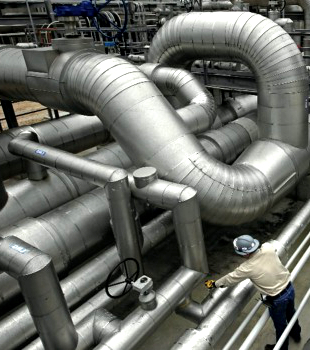 The Northern Territory Chief Minister says NT gas will flow to east coast markets by 2018.
NT Chief Minister Adam Giles has told the Top End's business community that local shale gas will be shipped along a new pipeline, the successful bidder for which will be announced soon.
While the hydraulic fracturing, or 'fracking', technique is criticised by various groups, an independent inquiry this year found "no justification whatsoever" to delay more NT gas extraction.
So the NT is moving ahead on a pipeline project that is expected to cost somewhere from $900 million to $1.3 billion.
It is expected to bring big benefits to the NT from its vast yet largely untapped gas resources.
Additionally, the Chief Minister told the audience of NT business leaders that he had commissioned a scoping study into a rail line between the Northern Territory and Queensland.
Deputy Prime Minister Warren Truss last month outlined a similar feasibility study into the rail link, as part of the Northern Australia White Paper.
The studies are expected to look at commercial imperatives and practical ways for the NT Government to make a rail line happen.
Giles also said the NT Government was expanding the Designations Area Migration Agreement, so that 500 new workers from 80 different occupations could work in the Territory.
"This new agreement will mean a far greater number of businesses will soon be able to recruit staff from overseas," he said.