NT hit for renewable contradiction

Print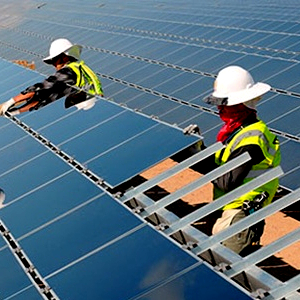 The Climate Council says the Northern Territory is lagging significantly behind the rest of the country in developing renewable energy.
The NT has been stuck at the bottom of the council's yearly 'State of Play' review, which ranks Australian states and territories on their renewable energy targets and criteria.
South Australia and the ACT are currently generating over half of their electricity from wind and solar.
Meanwhile, the Northern Territory only obtains 4 per cent of its energy from renewable sources.
However, that figure is double what it was two years ago, when the Territory's Gunner Government announced a renewable energy target of 50 per cent by 2030.
The Climate Council's Greg Bourne (a former president of BP Australasia) says the NT Government is being contradictory - setting renewable targets with one hand while supporting growth in onshore fracking and gas exports with the other.
"This is a real problem, not only for the Northern Territory and Western Australia but other states as well, and indeed other countries," he told reporters.
"Pushing fossil fuel exports and at the same time enunciating that they are going to try and reduce emissions, the two things become incompatible.
"That incompatibility will be shown more starkly as the years go by.
"If the Northern Territory, with its low population, does manage to create a large gas industry, the question that comes is who else in Australia offsets those emissions?
"But the good news is the Northern Territory is starting to look at things now and there is a lot of opportunity for solar."
The ACT is on track to achieve 100 per cent renewable energy from January 1, 2020, which would make it the eighth jurisdiction in the world with a population over 100,000 to reach that target.