Falcon Heavy takes flight

Print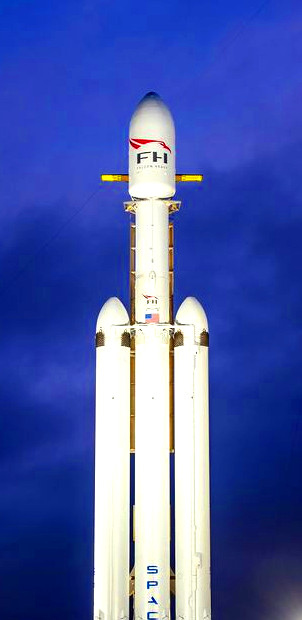 SpaceX's Falcon Heavy - the world's most powerful space rocket – has lifted off on its first deep-space voyage.
Falcon Heavy is essentially a combination of three reusable boosters from the smaller Falcon 9 cargo craft.
Before takeoff, the flight was given a 50-50 chance of success, with SpaceX's billionaire founder Elon Musk expressing considerable fears that the 27-engine rocket might blow up on the launchpad.
But the launch went without a hitch, other than a small delay.
A few hours later, the rocket's two side boosters landed upright on landing pads in Florida.
The rocket is carrying one of Tesla's electric sports cars as a demonstration, and will spend the next six months reaching an elliptical solar orbit the same distance from the sun as Mars.
After more tests, Falcon Heavy could provide the United States its first deep space, heavy-lift capability since the Apollo-era Saturn V rocket in 1973.
SpaceX says the rocket is powerful enough to carry a fully loaded Boeing 737 jetliner into orbit.
Falcon Heavy offers almost twice the payload capacity of its nearest rival, the United Launch Alliance's Delta IV, but costs less than a quarter of the cost to launch as Delta IV.
Live updates are available here.