Brisbane launches flood fund

Print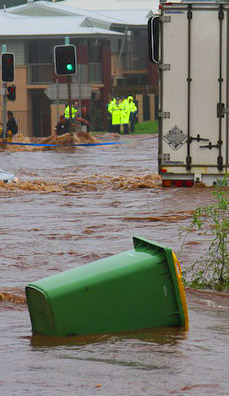 Homeowners in two Brisbane suburbs have been offered funding for modifications to improve their flood immunity.
Brisbane Lord Mayor Graham Quirk has revealed a $12 million fund of ratepayers' money for the "flood resilient homes" program.
The announcement came just a day after a new report found an increasing number of first home buyers are moving into "high-risk" flooding suburbs.
Over 200 eligible households at Inala, south of Brisbane, and in inner city Rosalie will be able to apply for a $50,000 grant to modify floors and walls, to relocate electrics and services and raise timber homes.
Cr Quirk said the program would provide a "broader menu" for areas prone to flash flooding.
"In so many areas you can pipe but the reality is it won't work," he said.
"What we want to do is find a way we can provide an opportunity for flood resilience in those areas.
"We're talking about those areas (that) flood regularly after severe storm events ... they are areas that on average flood around every two years."
Karl Sullivan from Insurance Council of Australia welcomed the program.
"Lowering the risk over time means lower level of claims and a lower number of claims will lead to lower premiums," he said.
Cr Quirk said a new remote-controlled robotic dredging device will also be used to help clear mud from stormwater drains.
"It's the first of its type and it can get to those very hard to get to localities that our conventional methods don't [reach]," he said.
The program will be delivered over the next four years.