Big funds for energy shift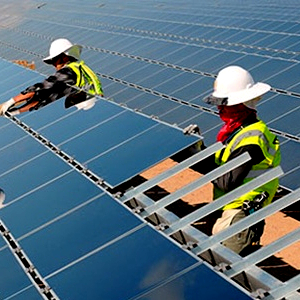 The Federal Government has pledged to create jobs and spur investment in new energy industries.
"The world's climate emergency is Australia's jobs opportunity," official budget documents state.
Last week's budget announcement included investment in new energy industries that the Albanese government says will help Australia become a renewable energy superpower while also creating thousands of jobs.
Focusing funding on non-metro Australia, the government says it will strengthen the economic future of Australia's regions, revitalise traditional industries with cheaper and cleaner energy, and power new industries like offshore wind and green hydrogen.
As part of this, a new Net Zero Economy Taskforce will bring together perspectives from regional communities, state and territory governments, industry, and unions.
It will be tasked with advising the Government on ensuring regional Australians are first to benefit from the transformation to renewable energy.
The government also says it is investing in building new energy industries in regions undergoing rapid change, including the following measures:
$1.9 billion to establish the Powering the Regions Fund, which will support Australian industry to decarbonise, develop new clean energy industries, help build the new energy workforce and continue to develop supply of Australian Carbon Credit Units.

$71.9 million over 7 years to build a Hydrogen Hub in Townsville to speed up the development of Australia's green hydrogen industry, taking the Australian Government's planned investment in hydrogen hubs to over $525 million, supported by investments through the Regional Hydrogen Hubs program in places including Gladstone, the Hunter, Bell Bay, and the Pilbara. Each hub is expected to bring on at least $41 million to $70 million of additional funding, totalling at least $501 million of further investment

$0.5 million in 2022–23 to support the establishment of offshore wind and other renewables

$2.2 million to enable a low emissions future and support green markets through consultation and policy design work for creating a Guarantee of Origin scheme
These Department of Climate Change, Energy, the Environment and Water (DCCEEW) portfolio measures are part of a total 2022–23 Budget investment of $24.9 billion to 2029–30 across Government to deliver climate change and energy transformation priorities.
Other energy industry spending includes the following investments over 4 years (except where indicated):
$20 billion for Rewiring the Nation to deliver low-cost finance to upgrade, expand and modernise Australia's electricity grid

$224.3 million to fund 400 community batteries to lower bills, cut emissions and reduce pressure on the grid

$102.2 million to extend access to community-scale solar and rooftop solar to 25,000 low-income households, tenants and residents of unit blocks

$157.9 million over 6 years from 2022–23 to help implement the National Energy Transformation Partnership, the first fully integrated national energy and emissions reduction agreement

$63.9 million to support energy storage and electricity grid capacity, with a focus on large-scale battery projects

$62.6 million over 4 years to support small and medium enterprises to upgrade or replace inefficient technologies to improve energy efficiency

$49.5 million over 4 years to increase the security of the domestic diesel exhaust fluid (DEF) market as trucks and other diesel vehicles rely on DEF

$22.8 million for the Australian Energy Regulator (AER) to enable it to simplify regulation for the safe, reliable and efficient use of gas pipelines and investment in gas infrastructure, and to allow the AER to undertake additional responsibilities under the Energy Ministers Post-2025 energy market reforms