Airbag recall drags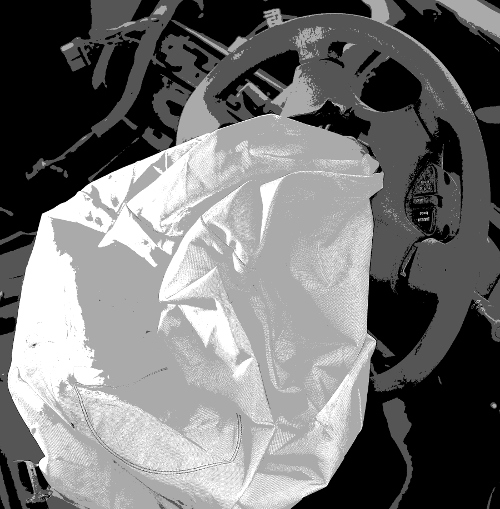 There are around 1.4 million cars on Australia roads with an airbag that, in some cases, has a 50 per cent chance of firing shrapnel.
Faulty airbags made by Japanese firm Takata have been linked to at least 18 deaths and 180 injuries worldwide, including in Australia, after being fitted to cars made by Honda, Toyota, BMW, Mitsubishi, Subaru, Lexus, Jeep, Nissan, Chrysler and Dodge between 1999 and 2016.
The full list of affected cars is available here.
The airbags inflate by firing off canisters full of explosive ammonium nitrate pellets, but these turn volatile over time. When defective units deploy, it causes the ammonium nitrate to burn aggressively, bursting its metal canister and sending chunks of shrapnel through the fabric of the airbag.
Police reports and court documents describe the exploding airbags sending "metal shards, shrapnel and/or foreign material" into occupants' eyes, face, neck and chest.
A report by the US National Highway Traffic Safety Administration (NHTSA) in June last year covered tests of 245,000 airbags by the safety body, which found 660 had ruptured.
If that rate of failure is applied to 1.44 million cars in Australia yet to be recalled, the number of defective deployments would be 3889.
A recall was initiated in Australia in 2009, but investigations by consumer group CHOICE have found less than a third of the affected cars in Australia have had their airbags replaced as of April 2017.
Manufacturing, distributing and installing a hundred million replacement airbags takes so long that many car owners are being told to wait months for replacement parts to become available.
The Department of Infrastructure and Regional Development, which is overseeing the Australian recall, has issued a statement saying: "The Department is satisfied that the action being taken by manufacturers to replace airbags addresses the current identified risk".
The Australian Competition and Consumer Commission (ACCC) says people should not expect much.
"Where a manufacturer or its Australian representative has issued a recall for affected vehicles and is replacing the airbags, it is unlikely that the law would provide for remedies beyond what is already being offered," it said.
Takata says the recall could be complete by 2020.
The ACCC has updated its guidance on the recall, and announced an investigation into the delay.